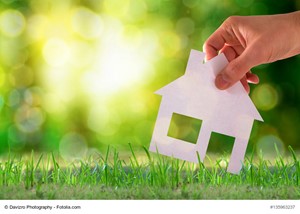 There is no set amount of time that you will need to allocate to sell your residence. In certain instances, a seller can generate lots of interest in his or her house and receive an offer to purchase within one day of listing a home. On the other hand, a seller sometimes requires many weeks or months to stir up interest in his or her home.
Ultimately, you should strive to commit as much time as you can to sell your home. If you do everything possible to promote your residence to potential buyers, you could reap the benefits of a fast, profitable house selling experience.
There are many things that a seller can do to ensure a seamless home selling experience, and these include:
1. Improve Your Home Both Inside and Outside
Remove clutter from inside your home – you'll be happy you did. In addition to making it easy to show off the true size and beauty of your home, eliminating clutter could help buyers envision what life may be like if they purchase your house.
Meanwhile, your home's curb appeal can make a world of difference during the property selling journey. If your house boasts a stunning front lawn and other exceptional home exterior features, your home may be better equipped than ever before to make a positive first impression on prospective buyers.
2. Establish an Aggressive Initial Home Asking Price
Take a look at the prices of comparable houses in your city or town. In addition, evaluate the prices of recently sold houses in your area that are similar to your own. This housing market data may help you establish an initial home asking price that falls in line with the current housing market's conditions.
Furthermore, it may be beneficial to conduct a house appraisal. With an appraisal report in hand, you'll have a property valuation that you can use to establish an aggressive initial asking price for your residence.
3. Hire a Real Estate Agent
A real estate agent is an expert guide for selling homes. He or she can help you list your residence, promote it to prospective buyers and much more.
Of course, let's not forget about the assistance that a real estate agent provides at each stage of the property selling journey, either. A real estate agent will help you create a house selling strategy and put this plan into action. He or she will be ready to respond to any of your home selling concerns or questions too. And if you're unsure about how to proceed at any point during the house selling journey, a real estate agent can provide property selling recommendations and suggestions.
For those who want to add a house to the real estate market and streamline the home selling journey, it may be a good idea to hire a real estate agent. By collaborating with a real estate agent, you can get the support you need to quickly navigate the home selling journey.