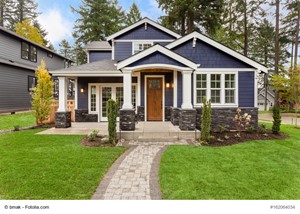 Curb appeal is a difference-maker during the home selling process. If you understand how to upgrade your residence's curb appeal, you may be better equipped than ever before to enjoy a fast, profitable house selling experience.
Now, let's take a look at three tips to help you improve your house's curb appeal.
1. Prioritize Lawn Care and Maintenance
If your lawn is covered in weeds and high grass, it may be overdue for a trim. Fortunately, you can mow the lawn, trim the hedges and perform assorted home lawn care and maintenance tasks to upgrade your residence's curb appeal in no time at all.
Of course, if you want expert lawn care assistance, you can always hire a home landscaping company. A typical home landscaping company employs friendly, knowledgeable lawn care specialists who can help you improve your lawn and bolster your house's curb appeal.
2. Eliminate Clutter
Lawn decorations may help you differentiate your home from others in your neighborhood. At the same time, these decorations may actually diminish the appearance of your home in the eyes of potential buyers. Also, lawn decorations may make it tough for buyers to envision what life may be like if they purchase your residence.
Remove lawn decorations, because if you have a clutter-free lawn, you can show buyers the true size and beauty of your lawn. And as a result, buyers may fall in love with your residence as soon as they see it.
3. Perform Home Exterior Repairs
If you notice cracked or chipped siding or other home exterior issues, don't wait to correct these problems. Because the longer you wait to perform home exterior repairs, the longer it may take to sell your residence.
For those who are uncomfortable about completing home exterior repairs on their own, it may be beneficial to hire a contractor. This professional will dedicate the necessary time and resources to ensure your home's exterior will impress buyers.
As you search for ways to improve your house's curb appeal, you may want to hire a real estate agent as well. In addition to offering recommendations about how to bolster your home's overall appearance, a real estate agent can serve as an expert guide along the property selling journey.
A real estate agent is happy to help you list your house, promote it to prospective buyers and host home showings and open house events. Plus, if you receive an offer to purchase your residence, a real estate agent can provide recommendations about whether to accept, reject or counter this proposal. A real estate agent will even negotiate with a buyer's agent on your behalf so you can maximize your house sale earnings.
Spend some time upgrading your residence's curb appeal – you'll be glad you did. If you can improve your home's curb appeal, you may be able to stir up lots of interest in your residence and reap the benefits of a quick, seamless house selling experience.